Heading into the hurricane season peak
Several months ago, I wrote on the 2021 Atlantic hurricane season outlook and explained how it compared to last year's historic season. You can read my previous post by clicking HERE. We are now halfway through the Atlantic hurricane season, and the National Oceanic and Atmospheric Administration just released the mid-season update.
It should come as no surprise, but they're sticking with their predictions for an above-average season.
Updated hurricane season outlook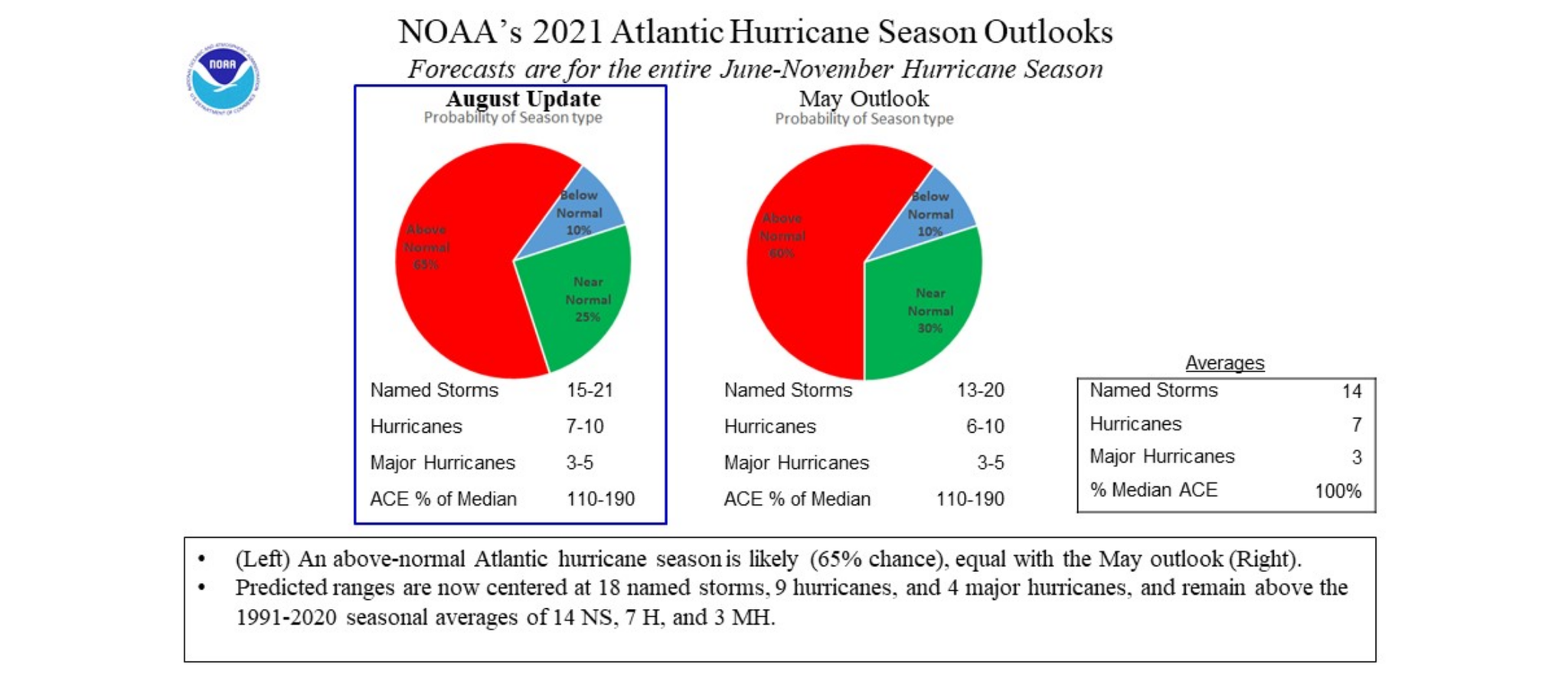 In May, NOAA predicted the 2021 hurricane season would see anywhere from 13 to 20 named storms. Of those 6-10 would strengthen to a hurricane, and anywhere from 3-5 would become major hurricanes. You'll also notice on the graphic above something called the ACE index. Essentially, the ACE index looks at the intensity and duration of tropical storms and hurricanes during a season. A high ACE index value means a more active and strong hurricane season.
For this article, I won't go into any more detail on the ACE index. Check back next week and I'll explain in more detail what it means.
In the latest 2021 hurricane season update, published on August 4th, NOAA held onto their predictions for an above-average season. The new outlook increases the number of predicted named storms to range between 15-21, with 7-10 storms reaching hurricane strength, and 3-5 major hurricanes.
This new outlook reflects the eight named storms we have already had so far this year. Elsa is so far the only hurricane of the season.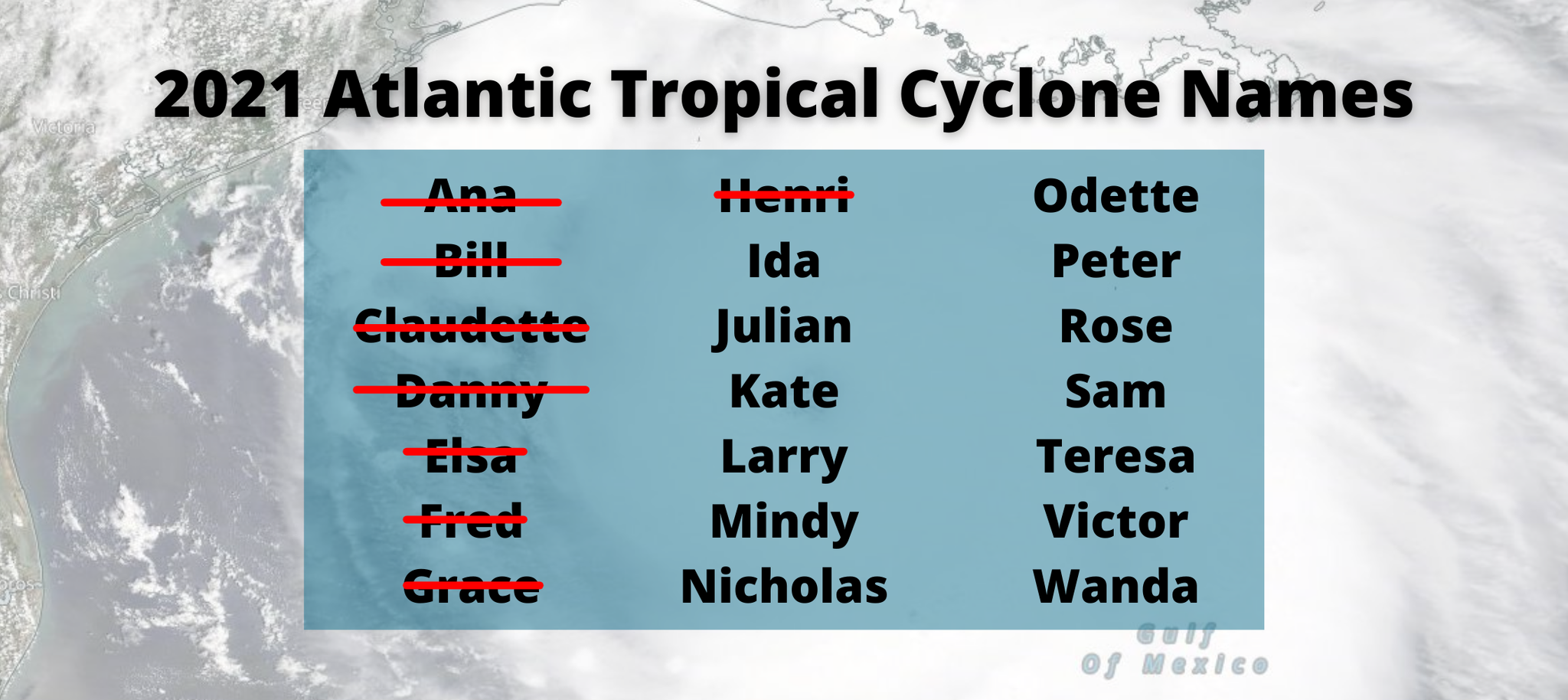 How does this new update compare to 2020?
While 2021 has already been active and is forecasted to remain that way, slightly cooler sea surface temperatures may keep it from being as active as last year. Warm waters act as fuel for the storms. However, what could make up for cooler water is the weaker wind shear over the Atlantic. Wind shear is the change of wind with height or speed. It is the killer of hurricanes by destroying their organization. Weaker wind shear over the Atlantic could increase hurricane activity over the next month. Additionally, the West African Monsoon also contributes to enhanced storm activity.
Looking back at the 2020 hurricane season outlook, the August update called for upwards of 25 named storms, with 11 reaching hurricane strength and anywhere between 3-6 major hurricanes. 
While this year shows no sign of slowing, it likely won't have the same intensity as 2020. Don't go discounting this season! Any landfalling storm can cause devastating damages and potentially be life-threatening.
Why are we just now peaking
Hurricane season runs from June through November, but the first several months are quiet compared to mid-season. 
The graph below breaks down the climatology per month for hurricane season activity. June and July only average about one hurricane per month. Notice the spike between late August and mid-October, with the peak occurring in September. Many factors contribute to this peak.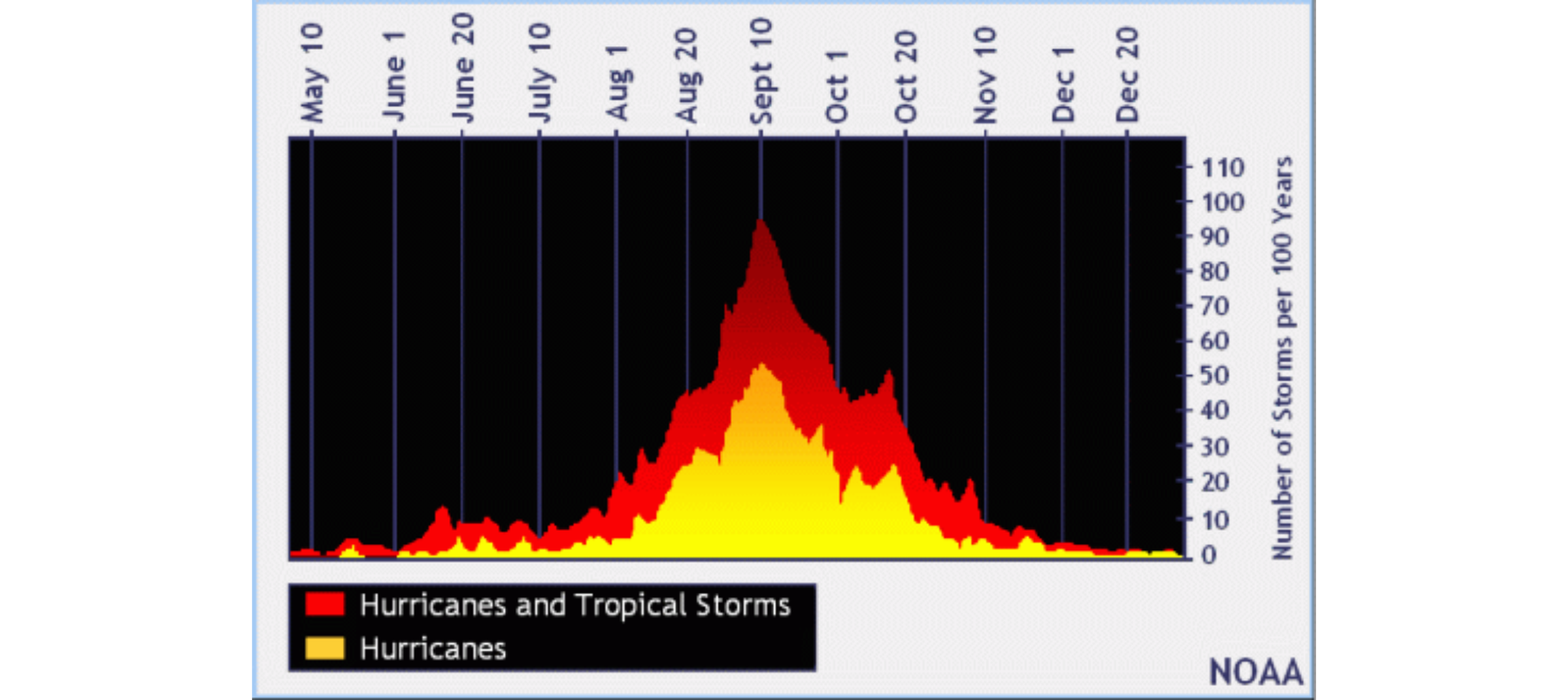 Water temperatures- it takes ocean temperatures a long time to warm. After winter, the ocean sea surface temperatures are cool. Water is a poor conductor of heat compared to the air or the land, so it needs to absorb more energy before it warms. Because heating is cumulative, it doesn't reach its peak heat capacity until late in the summer. One thing water is good at is storing heat, this keeps ocean water temperatures warmer for longer compared to land or air.
Instability and shear -Increased instability later in the hurricane season contributes to more intense storms. Wind shear, which rips apart storms, is also weaker heading into peak hurricane season.
Other factors contributing to the mid-season spike include more developed African easterly waves. These waves are often the starting point for tropical storms and hurricane formation. Saharan dust layers, which can harm hurricanes by producing wind shear and dry air, tend to weaken by the mid-season, making conditions favorable for storm development.
This season hasn't been quiet by any means so far, but a spike in favorable conditions means we'll see more tropical systems making headlines.
You can read all about hurricane season climatology by clicking HERE. Also, check frequently the latest hurricane activity on the National Hurricane Center website.